Have you ever struggled when layering your quilt layers together ready for quilting?

Many have, many do, and many more will, but it doesn't have to be a struggle, hard or complicated when it comes to layering your quilt ready for quilting.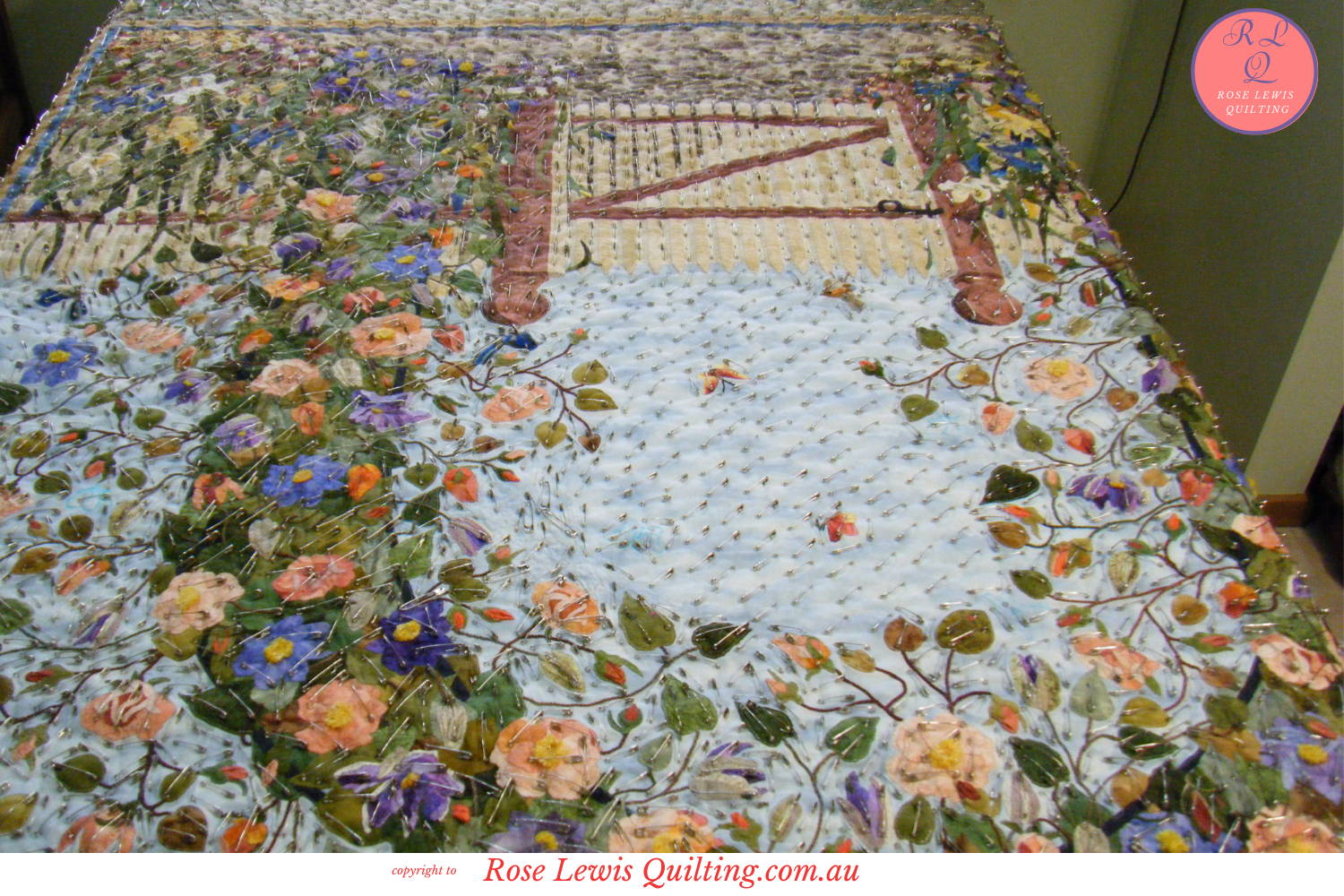 Have you ever struggled when layering your quilt ready to do
your quilting with your backing fabric, batting and your top fabric?

Have you ever pin basted your quilt layers together, only to
discover later that your backing fabric was crooked to your batting and top fabric?

Possibly you're unsure of doing your own quilting on your quilt
as you've accidentally had "tucks of fabric" caught into your quilt backing when doing your actual quilting..

Many people do struggle with layering it all together, particularly
if it's a little larger quilt. I've heard many stories over the years and received many e-mails of people asking me, "How do I pin baste my quilts where I never have any folds or tucks within my backing fabric particularly as I always use plain un-patterned fabrics, once my quilt has been finished being quilted".
I normally say something like…
"It's really easy once you know how!"
This is how I pin baste my quilts together, where all layers are straight, and I never have a tuck or fold of fabric accidentally stitched into the back of the fabric during the quilting process.

I do all my quilting on a domestic sewing machine regardless whether it's a small quilt the size of an A4 piece of paper or a large
3 mts quilt.

Firstly I do the normal thing of cutting my quilt backing fabric, my batting and top of quilt to the required size, although I do always make mine a little bigger all the way around and then cut it down after I've finished my quilting etc.
Once all those three layers are to the size I personally want them, then I use something, normally a large table top, depending on the size of the quilt layers, and then I take a packet of toothpicks, and a roll of sticky tape or similar.

I attach these tooth picks down the centre line of the table using
the tape to stick them to the table top and depending on the size of the table will determine how many I use.
On a 2 mts table top I'd use 6 lengthwise and 4 cross wise.
The important thing here is that the four toothpicks in the centre must all point to each other with only a couple of mm's between them, as in the below diagram. Obviously toothpicks aren't as big as these lines I've used, but you get the general idea.
If it's a bigger quilt then I'd use a bigger top and approx another 1 extra toothpick from edge to centre all way round or even two extra depending on the quilt. I often do smaller pieces on a smaller top, and just adjust the amount of toothpicks I use.

The important thing here is that these toothpicks need to be on both the centre lines…. and the length grains so to speak.

Once I have these "markings" created, then I take my backing
fabric, fold in half on the lengthwise grain, then I place some marking lines, normally using a blue wash away marking pen, right along the long centre line.
Next, I'll do the same on the centre crosswise grain, and if it's a bigger quilt then I'll also have quarter markings as well, that match to the same measurements as the toothpicks taped to the table.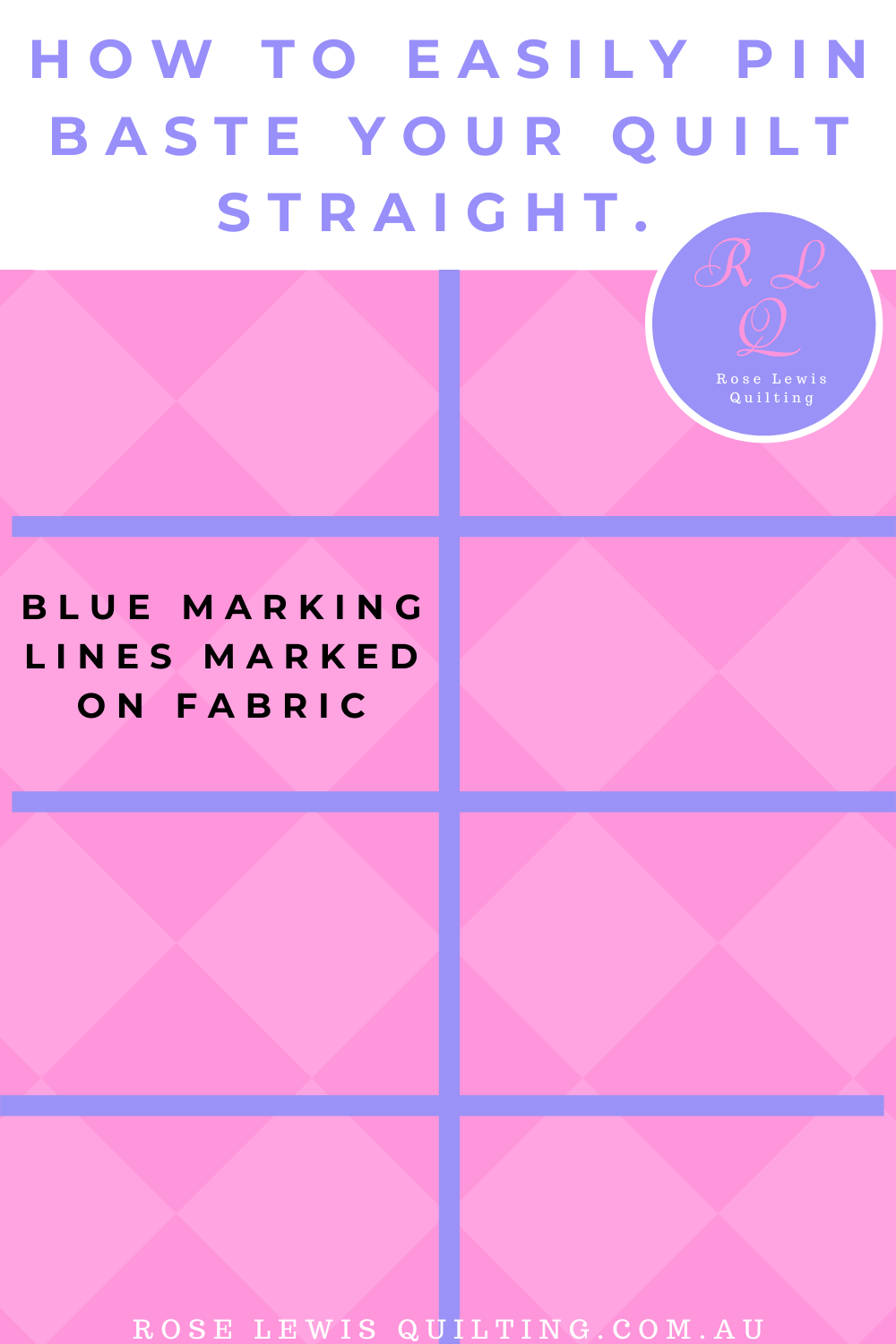 Normally as I use cream cotton sateen's or occasionally shadow plays for my backing fabrics the blue wash away marking pens will show through both the front and inside of these fabrics. This makes it easy for me to always be able to see these lines.
Now my table is marked and so is my backing fabric
but what do we now do?
I also take some clamps that you can purchase from an office style shop… they are normally called "fold back clips" and the size of these will depend on the thickness of your table top or smaller piece of "ply" timber etc, if it's just a smaller quilt piece.
Next I lay my quilt backing fabric RIGHT SIDE down onto the tabletop, and this is where the magic of those little toothpicks become powerful in getting your quilt layered and basted straight.


As you're spreading and straightening your backing fabric over these toothpicks, you'll start to see how this works.

Firstly start by matching the four centre toothpicks to the centre marked lines on your quilt, then start moving the quilt more to match the other toothpicks to the blue marking lines.

You can easily "feel" where the toothpicks are and can then match these to your blue marking lines.
You now need to make your backing "firm", so when you quilt,
you don't get any tucks of fabrics sewn into your quilting.
With those fold back clips, start by randomly clamping these to
the edge of your table and fabric to hold it a little in place, all the time being aware of matching those marking lines to your toothpicks which you can easily feel through your fabric. If you
find your table is too thick for these clamps, I actually use a very large piece of mdf timber 2 mts x 2.4 mts for many of my patchwork & quilting things that I've varnished to seal the timber.
Once you start getting your fabric held to your table, then start
"working" the stretching process to have your fabric taut.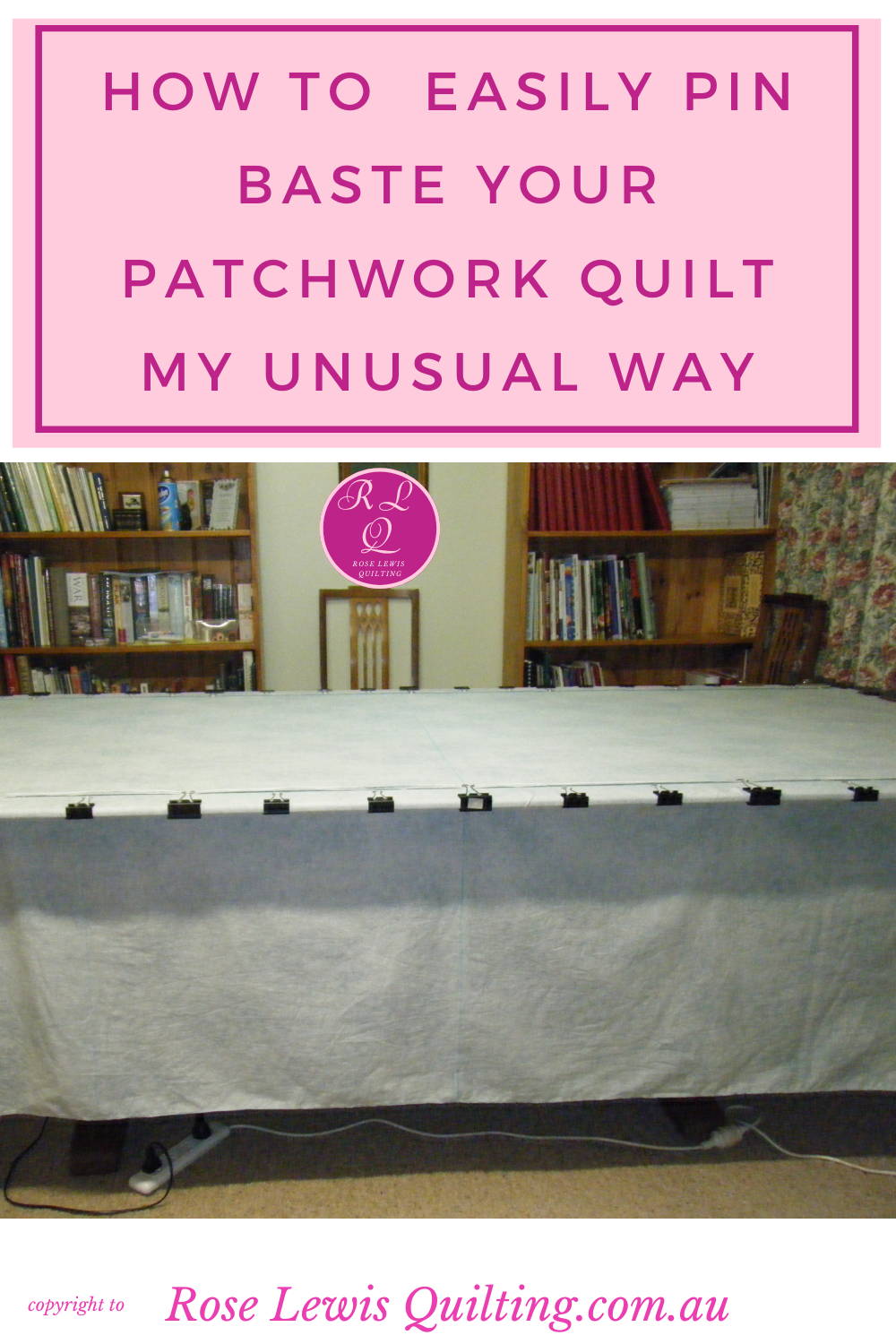 To do this you'll to work your way around your table several times, by making sure that your fabric lines up with those toothpicks that you can feel through your fabric to your marking lines but making your fabric quite "taut" by pulling it firmer all the way round your table against the clamps that are clamped onto your table.

                    I call this "working your fabric".
I have mine quite taut but not sooo tight that it's pulled the grain
of the fabric out of alignment. To test this I use my fingernail and run it across the clamped down fabric, and this is how and when you'll know if your fabric is taut enough as the fabric will be firm but not move as you run your fingernail across it.

This is something that you'll have to do yourself to fully
understand the description of the above, but a word of caution here….. don't skimp on the above steps as these are the difference between a brilliant result for your finished quilt or maybe a poor result with a crooked quilt backing and the quilting having tucks sewn into the backing fabric.
By preparing my backing fabrics like this I've never had a crease
or fold of fabric in the back of my quilts, and you can certainly achieve this same result yourself. Remember to always keep those toothpicks lined up with your blue marking lines on your quilt…. That's the trick to all of this and you can easily feel them through your fabric.
Once happy with the backing, then layer your batting over this making sure that your centre lines match up with those toothpicks, then you can lay your quilt top over the top of your batting, once again making sure that everything is still aligned together.

When happy with the result, you're then ready to start pinning
your layers together, feeling confident of the finished result you'll be achieving. I'll write about how I then pin baste my quilts together, and I've been known to use up to 4,000 safety pins in some of my quilts… but more on that next time in my next following blog post.

Hope this little tip helps you on your personal creative journey
and if you'd like more tips like these then do place your name and details below or jump on over to my website at
Rose Lewis Quilting.com.au

Have you checked out this sewing machine extension table yet?
Check it out here now.
You'll find PART 2 OF THIS RIGHT HERE
That's it for me for this week,
as usual I'll be back same time, same place next week...

Have the most beautiful creative & inspiring day
Rose
Be Creative, Be Inspired