How to pin baste your patchwork quilt ready for quilting!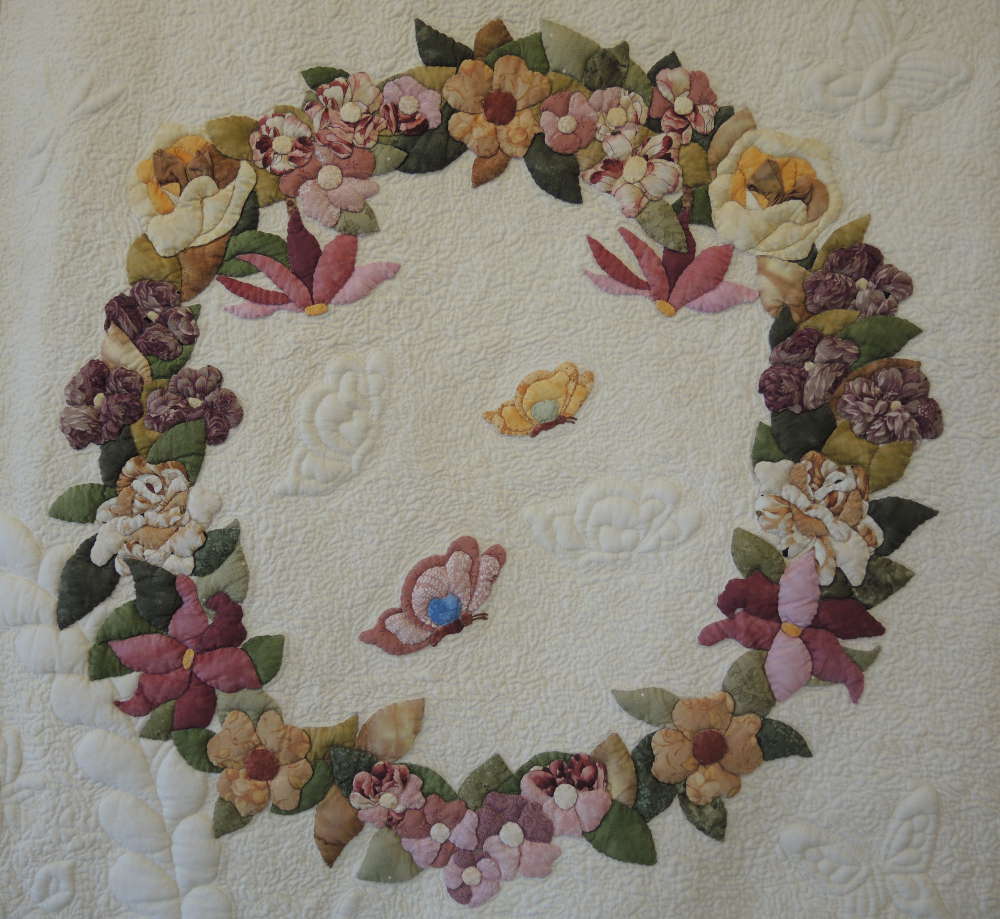 How to pin baste your patchwork quilt.

Once you've finished creating your amazing quilt top, do you feel a little unsure of just how to layer your quilt and then how to pin baste the layers of your quilt together.

This is part 2 of layering and pin basting your quilt ready for the quilting process. You'll find part 1 right HERE and you can discover why I use toothpicks to always be able to have my quilt backing lined up perfectly straight.

Now once you have your quilt backing straight, as above, then
you need to firstly layer your quilt with your personal favoured batting / wadding. I always use 100 % wool for my batting's and you can find out more about choosing your wadding's/ batting's HERE.

Once I have my quilt batting / wadding cut to my required size for my quilt, this is what I personally do.

I fold my quilt batting in half lengthwise, and then using my
blue wash away marking pen, I place some lines along this centre lengthwise fold, then I fold my quilt batting in half in the opposite direction and once again place a few marking lines on the crosswise fold.
Next I then lay my batting over my quilt backing that is still
fastened to my table top etc, as in part 1, and with the toothpicks that are still in place on my tabletop, I then match these to the lines on my batting, just like I did with my backing fabric except this time round I don't fasten it to anything. I just make sure that I don't move it at all. You can easily feel where these toothpicks are through the layers of the batting and quilt backing fabric.

I also don't have my batting cut exactly to the finished size, I
always cut mine a little larger than required and then after the quilt has been totally quilted and washed, I trim it down to the needed size. This allows for any movements etc.

Once I'm happy with my quilt batting, then I fold my actual quilt top in half lengthwise and once again using my blue marking pen, add some lines on both the lengthwise and cross wise centers and lay this over the backing and batting, making sure I have it facing upwards the correct way and with feeling those toothpicks once again to make sure it's perfectly straight to the quilt backing and batting.

Once this is all done and I'm happy with it, I pull out my trusty safety pins that I use for my quilting, ranging in several sizes. I always like to use good quality safety pins here for this process and my favoured brand is Newey, as they're certainly a more robust pin as they don't bend out of shape as easy as many of the cheaper or lighter pins do. Newey pins have been around for many many years. I also pull out my very favoured "hook tool" that I've had for many years and use for many different uses within my quilt making.
I use this for hooking the pins closed during the pinning / basting process and this certainly saves my nails, and I also use it to undo the quilting safety pins during the quilting process but more on that another time. You can check out this "hook tool" right here.

I like to pin very closely together, as this stops any movement happening during the quilting process, particularly as my quilts are often very thick from all the trapunto that I use within my quilts and often very thick layers of applique.

Where I have the thicker layers, I use the curved quilting pins, but when I'm in the flatter areas, where it's just the three layers being backing, batting and top fabric, then I normally use 1" normal safety pins like the Newey brand ones. Sometimes I'll use 1 1/2" as well.
Some of my quilts have over 4,000 safety pins in them and
how do I know this?

For my A caterpillars dream quilt I actually purchased new pins totally for this quilt and as they were boxes of Newey pins each box had the actual quantity of pins in the box and not the weight so it was very easy to know just how many pins. Using my trusty "hook tool" I settled in for 10 days and pin basted this almost 2.5 metre square quilt together ready for quilting.
Now as this quilt was bigger than the table and hung down each
side of the table, once I had all the top part pinned that was on the actual tabletop, I then un-clipped those clips that were holding the backing fabric taught.

I then slid the quilt across to where I could now re-clip the edge
of the backing fabric to the table top once again but this time it would only be clipped on one long edge and possibly one or two ends depending on the size of the quilt.
The other long edge can just hang over the edge of the table as
now with all the weight of the safety pins, the quilt is firm in it's backing…. You must have the other long edge pinned to the table though to keep the backing firm & taut.
Continue pinning until you have that new facing area pinned,
then you can remove the clips once again and slide the quilt across your table to the other side and once again clip that edge to the
table and the other "now pinned" edge will have the weight to hold everything taut.

This'll make much more sense when you do this, and if you were
to look at the back of any of my quilts, you'll not find a fold or pleat of fabric anywhere on the backs of my quilts.

The image below shows where I now have moved the quilt over
the edge of the table and the weight of the pins are holding it all in place.
I always use a plain fabric as well, so to enhance my quilt back.
Why put in all that work of quilting and hide it with using a patterned fabric.

Just in case you're also wondering, I also quilt ALL my quilts on a domestic sewing machine, yes even my 3 mt very thick trapunto & applique quilts.

The quilt is now quilt heavy with all those layers of quilt fabrics
and quilt batting's or quilt wadding's as well as all that quilting safety pins. When happy with it all, I remove the last of the clips and then turn the whole quilt over so I'm looking at the backing fabric and check to make sure it looks right on the back.

I then set up my machine and my very trusty sewing machine extension table, fill up many bobbins with my chosen quilting thread, etc ready to settle in for the next process of quilting my quilt.

To me that is the best part as while quilting you actually see your quilt really starting to come alive. To me this is such a magic part
of the whole quilting process. I'll write more about that at another time, but for now I'm going to leave this one here.

You can see the back of this quilt here using the exact technique
as described above.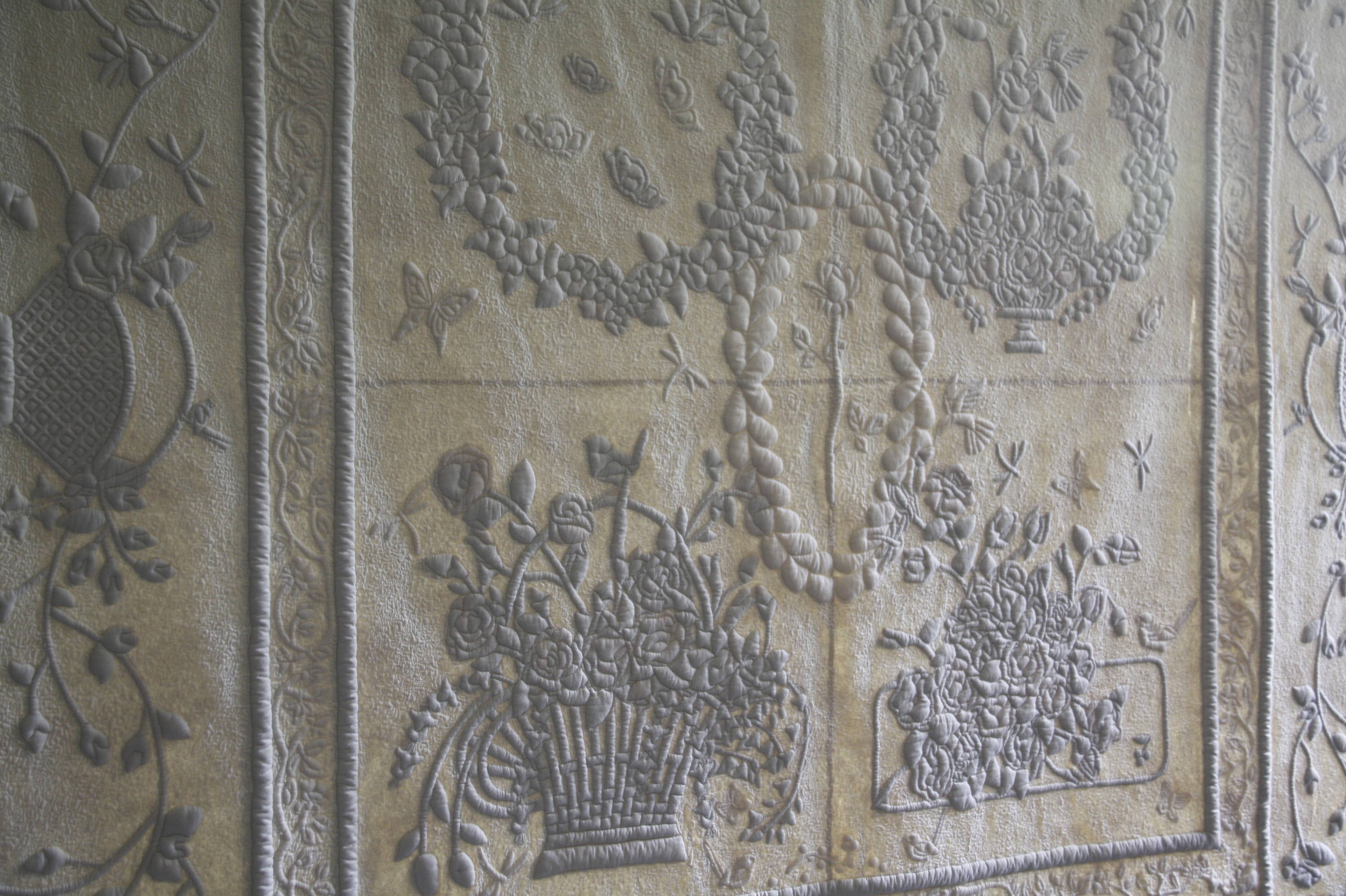 Have you checked out this sewing machine extension table yet?
Check it out here now.

That's it for me for this week,
as usual I'll be back same time, same place next week...

Have the most beautiful creative & inspiring day
Rose
Be Creative, Be Inspired