How to join "your" quilt backing fabrics to always look correct!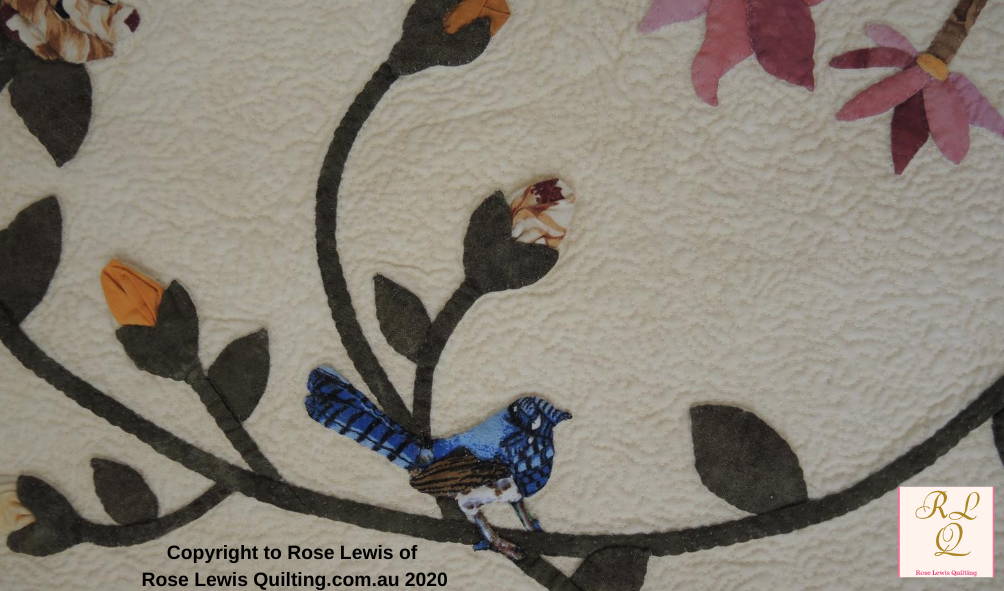 Do you know how to correctly place your quilt backing fabric if
your fabric is not wide enough to cover the whole of the back of your quilt? Many people these days use wider backing fabrics for their quilt backings, often these are up to 3 mts wide, but there are times that either you may not be able to find what you're wanting to use, or you just want to use some other fabrics that may suit your quilt or of course something from your fabric stash….
I personally always like to use cotton sateen which is 3 mts wide,
but if for some reason I don't, then I would personally prefer to use a shadow play fabric. This like most quilting fabrics is only 115 cms wide so what do I do to have this fit and look balanced and correct?

It definitely doesn't have to be a shadow play, it can be any fabric
of your personal choice.

Let's say your quilt is 2 mts wide, your backing fabric is 115 cms
wide, it's how you'll place this fabric onto the back of your quilt, that'll make it look right or wrong.

I'm not allowing for the seam allowances within these few below examples.
Many people may just join onto the side of the 115 cm piece the extra needed 85 cms to make their backing fit their quilt as per the below image here.… This wouldn't do justice to your amazing quilt that you're making, as it'd tend to look rather "patched up" so to speak.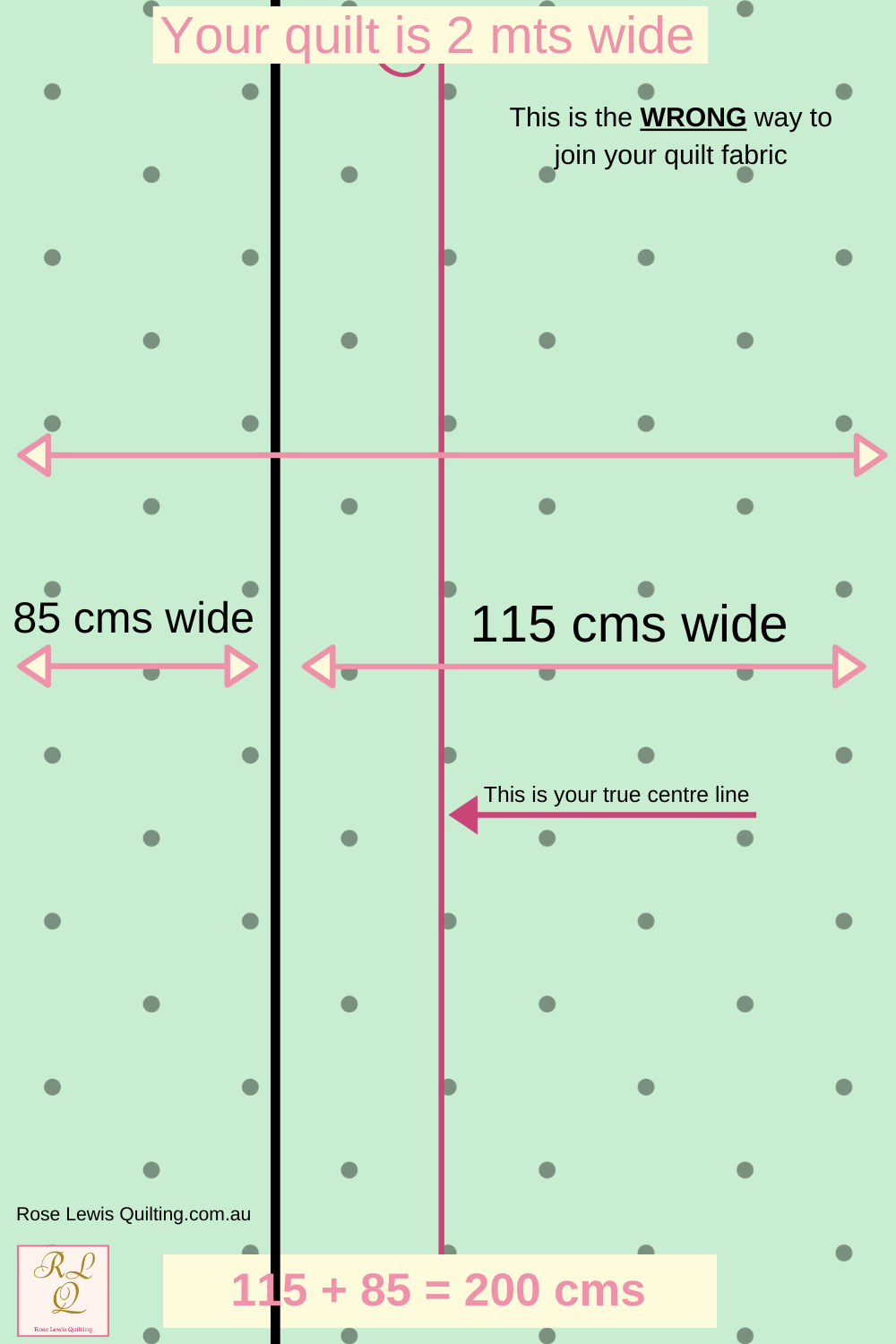 What you'd do, is have the 115 cm piece of fabric in the centre,  then you'd cut 2 strips of fabric 43 cms wide and join onto each side of the centre 115cm piece.

43 cms + 43 cms = 86 cms + 115 cms = 201 cms.

By joining your quilt backing fabric this way, you will not have a join down the centre of the quilt, but the joins will be even across the quilt back as per this below image This'll look much more balanced, and you'll have a better & more professional finish to
your quilt, with very little extra work.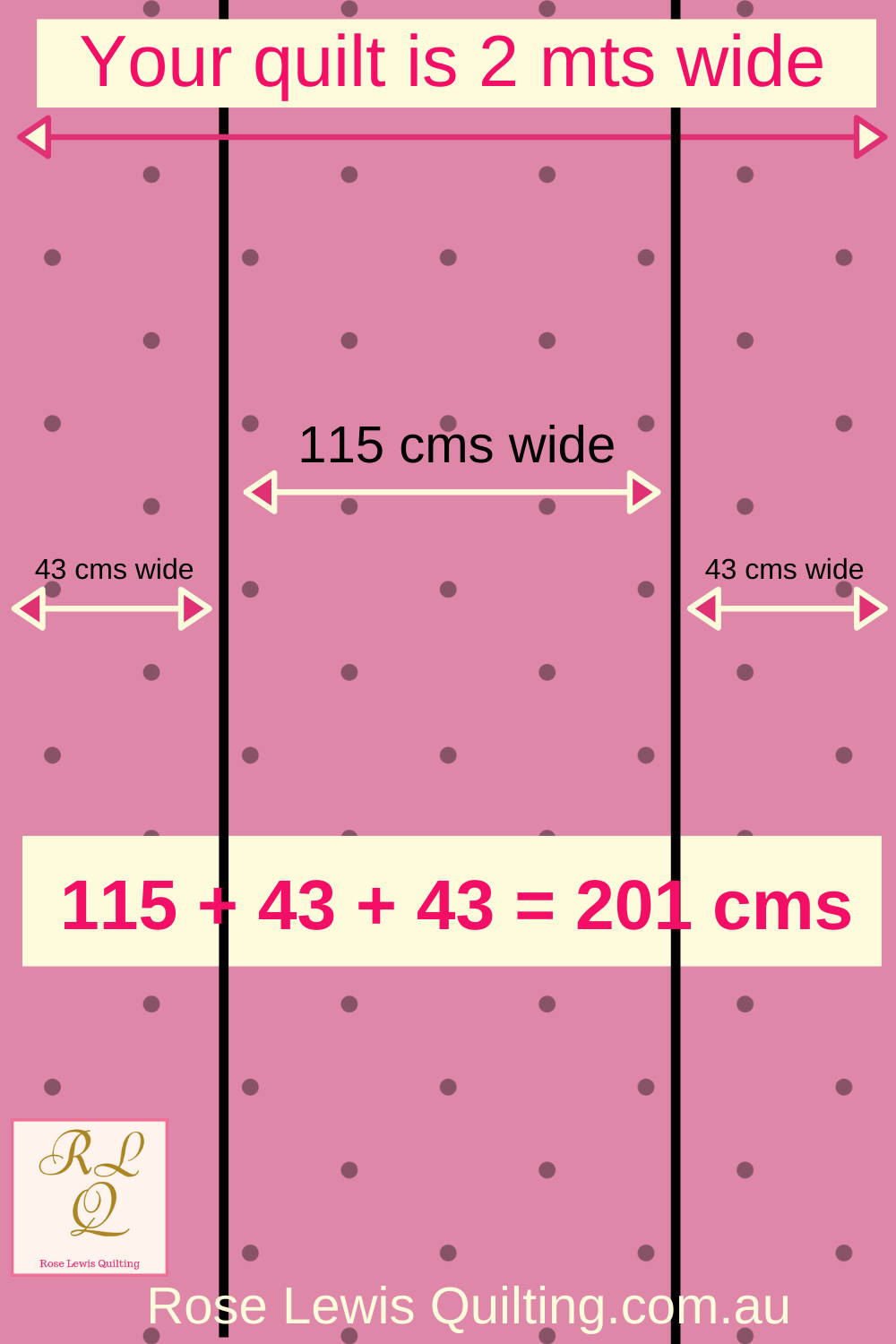 If your quilt is wider than the above one, it's the same idea, on a bigger scale, but in a different fabric formation. Let's do a sample
of that one as well.

Let's say your quilt is 2.7 mts wide and your fabric is 115 cms wide.
270 cms – 115 cms = 155 cms needed to make the width. In this scenario, you'll need to create 4 panels.

You'll join two lengths of your 115cm fabrics together, which'll
then be 230 cms, leaving you with needing another 40 cms to make the needed 270 cms.

You'd then cut two more strips that are 20 cms wide, and add one
to each side of your other two pieces…. 115 +115+20+20 = 270 cms

With this width of quilt, you'll have one seam that goes straight down the centre of your quilt, so this'll look correct & balanced,
while your other joins will then be balanced on each outer edge of your quilt.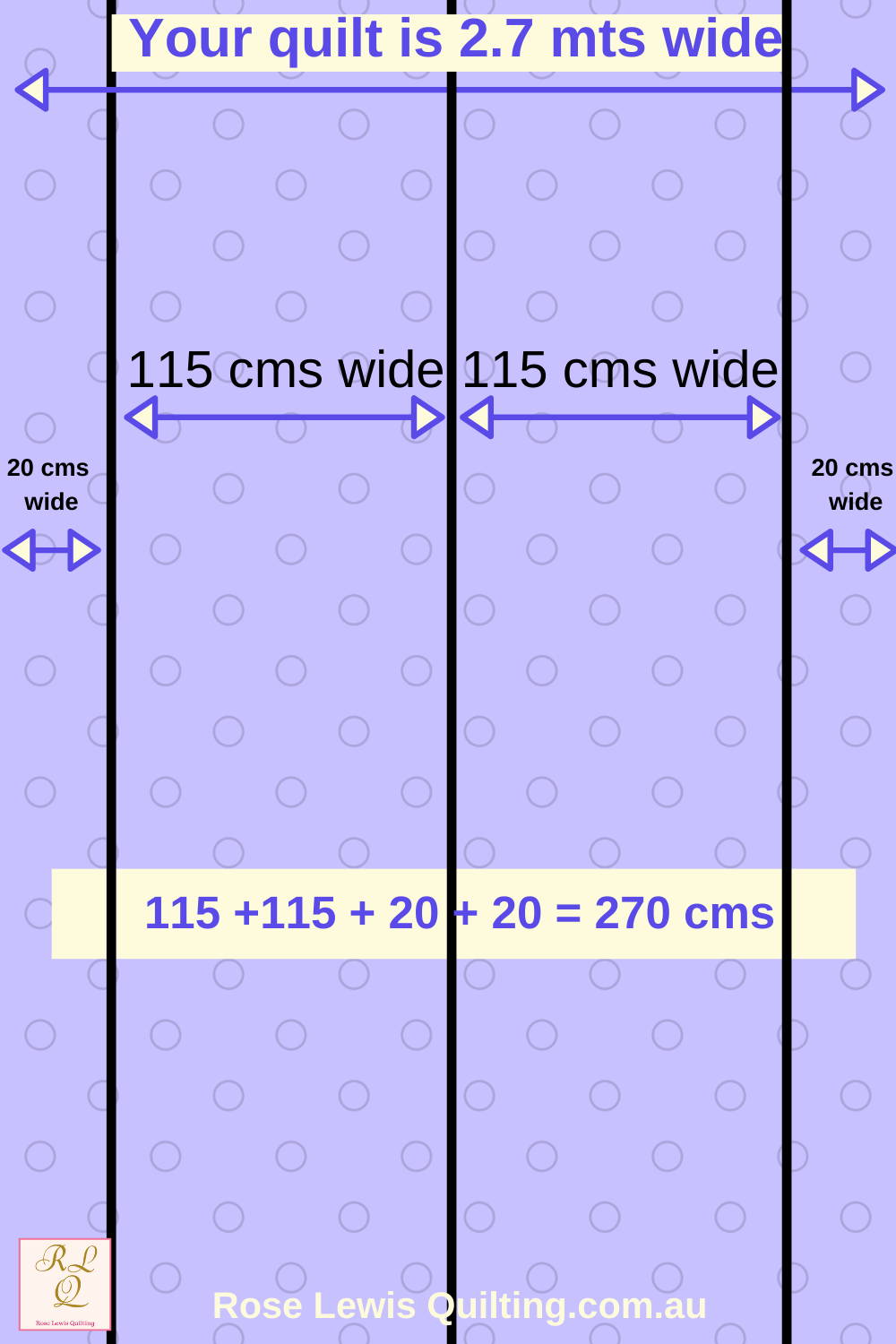 Hopefully with these simple description and the images to help you understand better, that you'll have a clearer understanding of how to join your quilt backing fabric if you don't have a piece wide enough for your beautiful quilt that you're creating.

Always remember, by taking just a little more time, a little more
care and a little more effort your quilt can be transformed from
"an okay quilt" to a masterpiece, worthy of your upmost pride, and worthy to be able to enter it into a quilt show with incredible confidence that the judges will like what they see, and worthy of the time, love & money that you've put into your new personal masterpiece.

Most of all though, good workmanship always comes from the
finer details, and a little extra care.

Have you checked out this sewing machine extension table yet?
Check it out here now.
That's it for me for this week,
as usual I'll be back same time, same place next week...

Have the most beautiful creative & inspiring day
Rose
Be Creative, Be Inspired