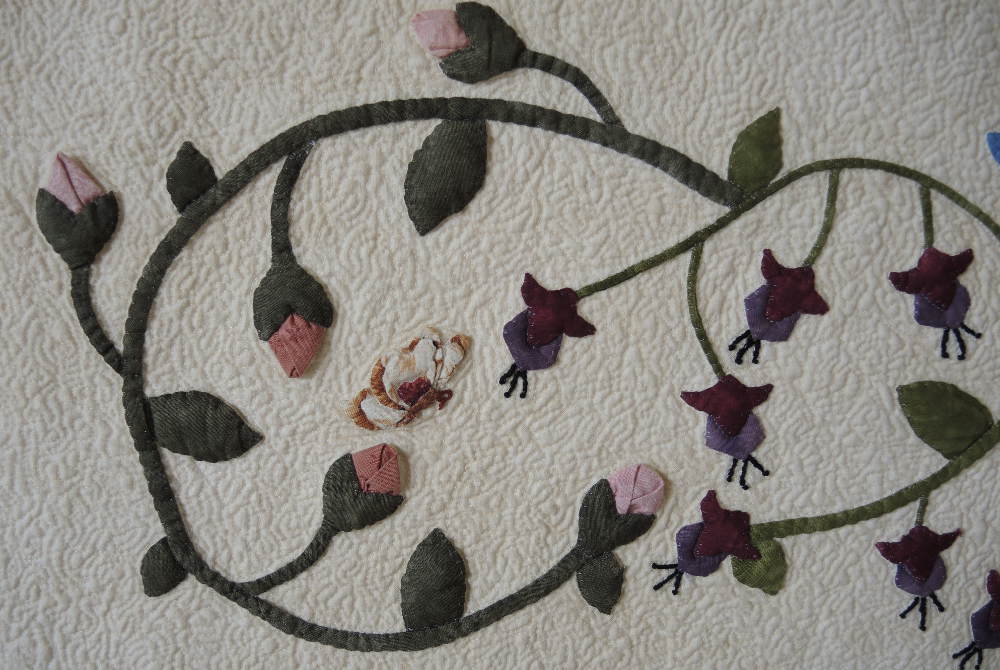 Quilting & Sewing Stabilisers.

Are you like many other quilters, patch workers, sewers & textile artist's who quite often get confused with the very vast range of quilting & sewing stabilisers?

Well, don't stress as you're not alone.

I'm often asked about stabilisers and pre covid when I was
teaching many in-person quilting technique classes, I'd often
spend time showing & explaining about some of the different papers & stabilisers used within our quilting & sewing.

Of course we all know that we can have, iron on stabilisers, wash away stabilisers, printable stabilisers, stabilisers for hooping and so the list goes on. Stabilisers can make a huge difference to how our fabrics react when sewing, piecing, embroidering and so forth.

Today though I'm going to be talking about just one stabiliser so
as not to confuse you with the many multitudes of stabilisers. This one is a Sulky brand stabiliser and is called Ultra Solvy.
Now Sulky make several different "Solvy" stabilisers. Solvy of
course has the meaning that it dissolves or better known as a water-soluble stabiliser. There's Paper Solvy, Sticky Fabric Solvy and of course this one, Ultra Solvy.

This comes in several thicknesses and sizes.
There's Sulky Solvy, then Sulky Super Solvy, Sulky Ultra Solvy.
As the name suggests, these are different thicknesses and weights and of course can be used for different things and really you are only limited by your imagination.

Many people who love doing machine embroidery love to use
this within a hoop, to make things like lace doilies, etc or anything where they want to be able to have the whole of the stabiliser wash away later and they just have the piece left in their hand so to speak.

It's fantastic for using as a stabiliser for many things that you
need support but don't want it showing later. You could use it when making buttonholes particularly on fabrics that may be a little hard to work with, and you're only limited by your imagination. When you've finished what your sewing, just run it under running warm water until it has all dissolved or you may want your piece of work to still have some of the stiffness left in.
If so, then just don't wash it all out.
Of course what you're working on will decide just what thickness
of the Ultra Solvy that you need, and if you wish to hoop it or use it as a single layer or several layers.

I've found many uses for this brilliant product over the years
but the main way that I personally use this, is in my "very unique" way that I create my thread painting, particularly for within my quilting work.

I definitely favour the Ultra Solvy and you can easily trace
your design or pattern onto this if needed by using a permanent style marking pen and my favoured ones are the black Uni-pin fine line marking pens. I've been using these Uni-pin marking pens for many years and I've never had the tips damage, etc as they hold their points right to the end of the pens life of ink that they have in them. They don't rub off or disappear on the Ultra Solvy, which of course is always a bonus…. Nothing worse then getting part way through your project, only to find your markings / design have disappeared.
When using this within my thread painting, I do NOT hoop this stabiliser as there is no need to but I often do use a couple of layers etc as it then really holds up to the density of the thread painting that I love to create, and I must say that when I thread paint, I use many many layers of thread, so the products I use have to be able to stand up to this, and Ultra Solvy definitely does.

Not having to use a hoop gives me more freedom and movement under my sewing machine, and just knowing that it's not going to tear away half way through my thread painting is really nice. Also often if you use a hoop, it can be quite restricting to what you're sewing or creating.

When I create my thread painting, I totally create it on my Sulky  ultra solvy stabilizer, which comes in various sizes, then later on I do something that's "very unique" to how I create my thread painting, next I wash out the stabiliser and then attach my thread painting directly onto my quilt.

If you were to create your thread painting by thread painting directly onto your quilt, and if you make a mistake, then you take the risk of ruining your quilt, but by doing it this way, and adding
in the unique thing that I personally created many years ago, for achieving optimum results then you have a zero risk of ruining
your quilt.
This tree trunk above was created using Sulky Ultra Solvy and the this trunk and the whole tree as below has been sewn using many layers of threads to build up the density of the tree.…
I hope that this has given you more insight into just one of the stabilisers that I personally use within all my quilting work.