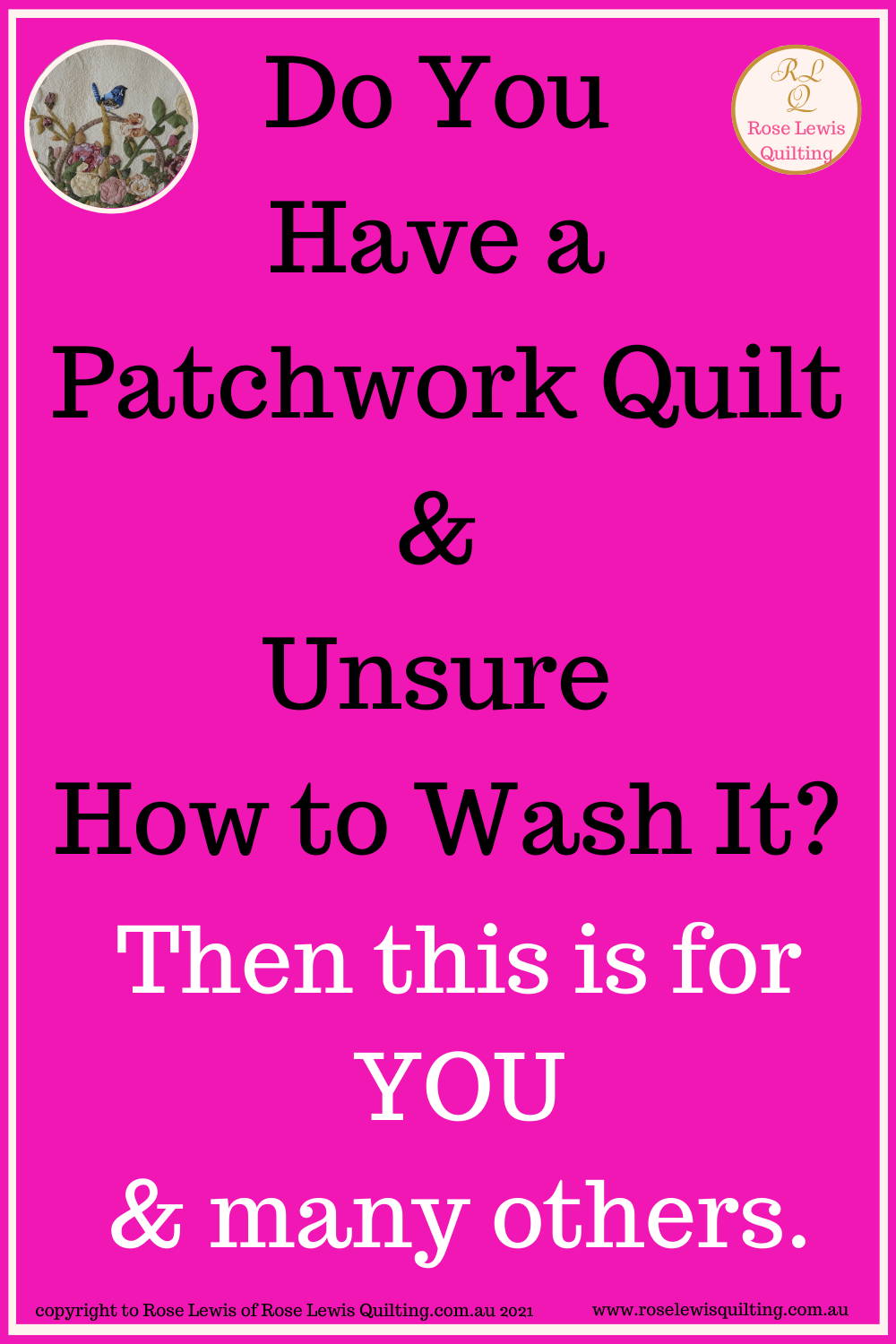 How to wash n block your patchwork quilt is a 4 part series here as I take you through the steps!
Have you ever finished your beautiful patchwork quilts, and feel like you'd like to give it a wash? Have you felt that your quilt may just need a freshen up, but feel very uneasy about how to wash your quilts. Maybe you're wanting to exhibit your patchwork quilts within an exhibition & once again your not too sure how to do this and what is blocking I hear you ask.

Washing n blocking a quilt after its finished is such an important step for your finished quilt, and the majority of people seem to overlook this, but on saying this, the majority of quilters do not even know about this step because so few people do it and it's very seldom written or talked about.

You'll receive some insight to some of the steps here over several continuing blog posts to give you insight to just how I do all my quilts, whether they're 3 mts square, or as small as an A4 piece of paper, whether they're for exhibition, a class or an on-line teaching piece, but I've also created a FREE on-line course to really give you the full instructions, videos, & lots more information than I'm able to give to you here... but let's carry on here for the moment.
 As I mentioned above I'd give you some insight to the equipment & products that I use when I wash n block all my quilts. Firstly though, just what is washing and blocking and why do I do it...

When you've finished creating your beautiful, personal masterpiece and regardless of whether this quilt is for your personal use, a gift, an exhibition, etc, you want it to look even more stunning than it already is. After your quilt has been screwed up under your sewing machine etc for many months or maybe years in the process of lovingly creating it, or one of those UFO's that's been in a cupboard for a very loooong time, it needs a little reshaping, pampering and caressing...no I don't mean your body.... your quilt....

With washing n blocking your quilt, you'll be surprised at the huge difference this simple step will make to your quilt, but do be aware, this will not make an "out of shape" or "crooked quilt" square, that's a sewing defect, but it will make your quilt, particularly those that are square, look more magnificent than you'd imagine.

The first and most important piece of equipment that I use will seem a little strange to you, but believe me, it's the most important part of washing n blocking a quilt successfully.

To be able to block your quilt, you need to have something to pin it to
very successfully, so I use a piece of builders wall insulation, you know the sheets you see fastened to a semi completed house during it's building stage where it's often green on one side and silver on the other, normally called Foil Board.

This comes in sheets that are normally 2400 x 1200 and the thickness that I personally prefer is 25mm, as this allows me to be able to put pins into it without them going through the other side. On saying this, the pins I use are 26mm, so with the thickness of the quilt, this saves them from going through into your flooring, but I only ever do this process on a carpeted floor. I do not recommend doing this on flooring that may damage like polished floorboards, just in case your pins are a little longer. When I do my large 3 mt quilts, I'll use several of these sheets, and I fasten them together with just your normal packaging tape, as you'll see within my video lessons for your free on-line course on "How to wash n block a quilt". These sheets do come in various smaller sizes as well.


You'll be able to see within these above images the type of board I'm talking about, but of course within the course itself I'll go into lots more detail about how & what I do with this board. The images aren't the best as it's very reflective which makes it difficult for taking a good image.
Some of the other very simple items that I use when washing n
blocking my quilts, are masking tape, my bath, laundry trough or bucket, depending on the size of my quilt, particular pins, and depending on the size of the quilt I'm doing, I may need just a very small area, or if it's a very large 3 mt square quilt, then I'll move the majority of furniture out of our lounge room as I need that space to be able to wash n block my quilt, for a beautiful final finish to my quilts.

I also use a specific product for washing my quilts in and please do check out this blog post here to find out just WHY I use this product, as it's a life (quilt) saver.

In part 2 of this blog post series, I'll give you some insight into what I do with the masking tape so do make sure you check that out, or you can just pop on over to watch the totally FREE How to wash n block a quilt on-line course... by clicking HERE NOW...your choice totally.


Maybe you'd rather watch this video I've created to show you how I
fold all my quilts to reduce the heavy fold & crease lines that many quilts seem to have, particulary if you're wishing to exhibit your quilt.

That's it for me for this time round,
and you can find Part Two of How to Wash n Block a Patchwork quilt below.

Have the most beautiful creative & inspiring day
Rose
Be Creative, Be Inspired