Sewing Machine Extension Table?
Together let's create your perfect sewing machine extension table to fit
"Your personal sewing machine"!
---
Fallen out of Love
with not having a
Sewing Machine Extension Table?

Are you tired of not having a good solid & very large
sewing machine extension table, one that fit's your
personal sewing machine, one that easily slides on
& slides off again as well as being very light to move
around? Of course you are!... I would be too....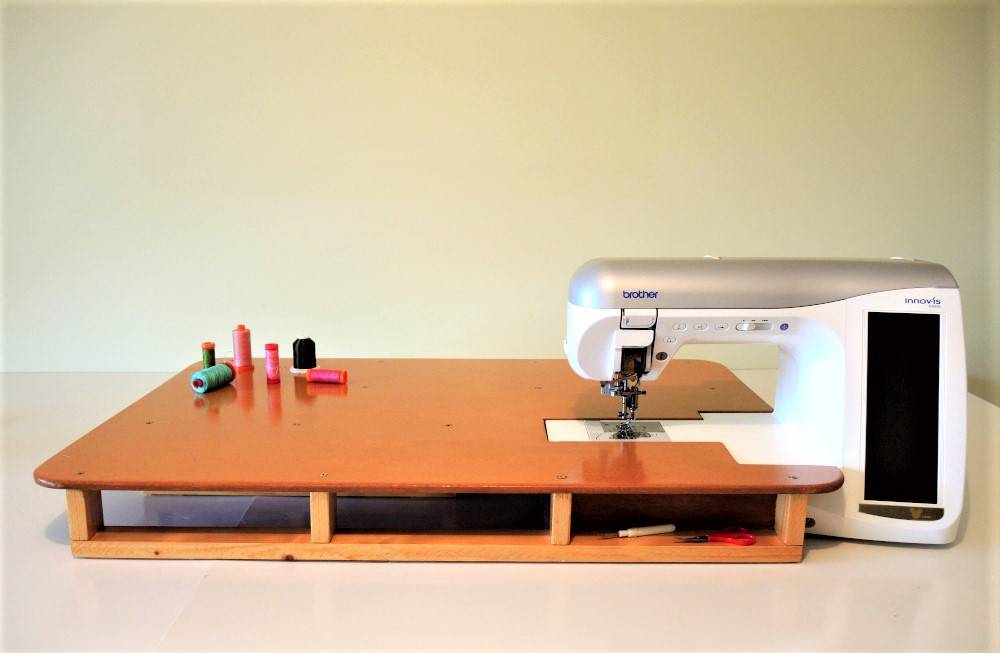 Let's create "Your" new
Sewing Machine Extension Table
to fit your personal sewing machine!

My husband designed and created this sewing machine
extension table for me here, and I've been using these same tables
now for approx 20 years & they're still as good as the day he built them.

It fits my machine perfectly, it easily slides on & off, it's very solid,
but very light at the same time, even though it's built with wood.
It's well supported and I quilt my almost 3 mt square quilts on it,
as well as my tiniest pieces that I create.
You'll see in this image here where I'm
creating a small thread painted piece.

Having this extra space when working with smaller pieces, allows me to
be able to use the table for tools, notions, threads, etc which once again
makes sewing easier, as everything is at the same height & easily within reach, plus you'll also notice that there's an area under the actual table
top where I like to keep scissors, etc that I use for cutting threads when
sewing... easy to find, easy to reach!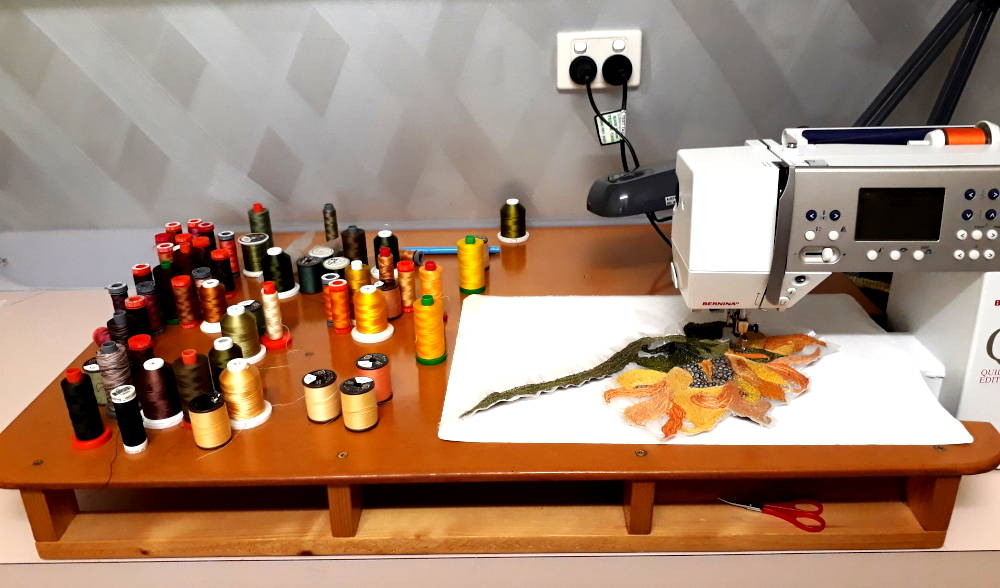 ---
Together we can create your new

"Sewing Machine Extension Table"

We've done our part in creating the pattern for this absolutely brilliant sewing machine extension table.
It comes with very simple instructions, including lots of images and two patterns sheets that just need to be
enlarged & your list of supplies, inclusive of sizes etc... simple ... as life is meant to be!
Your part in the creation of "your new sewing machine extension table", is that you need to purchase the
e-book pattern for this below, then you can easily download the e-book and you're already on your way
to your new extension table. You can then have the fun & enjoyment of building this yourself, or your
partner, or maybe someone you know to make it for you & some people tell us they go to their local
men's shed to have it made.
---
I hear you asking ....
"How do I make it fit my personal sewing machine around the arm of the machine, just like yours does"

That's simple & easy as well.
Yes, there is a trick to this, but once you know how, it's very very simple.
The instructions show clearly and explain in detail, how to make this fit your personal sewing machine.
How big is this extension table?
"Huge"
It measures 59.5 cms X 89 cms or 23 ½ ins X 35 ins
---
From this...... To this...... Easily with this!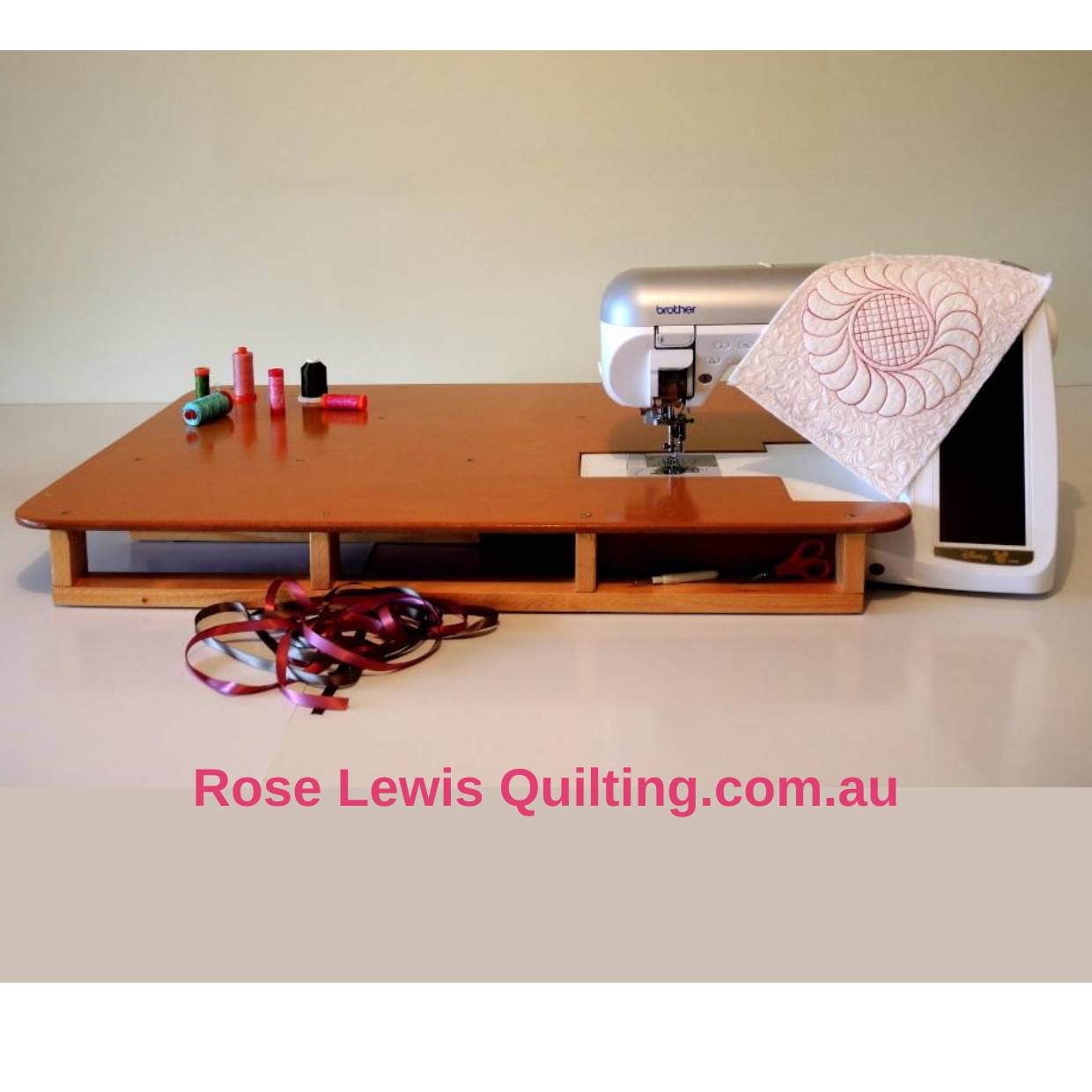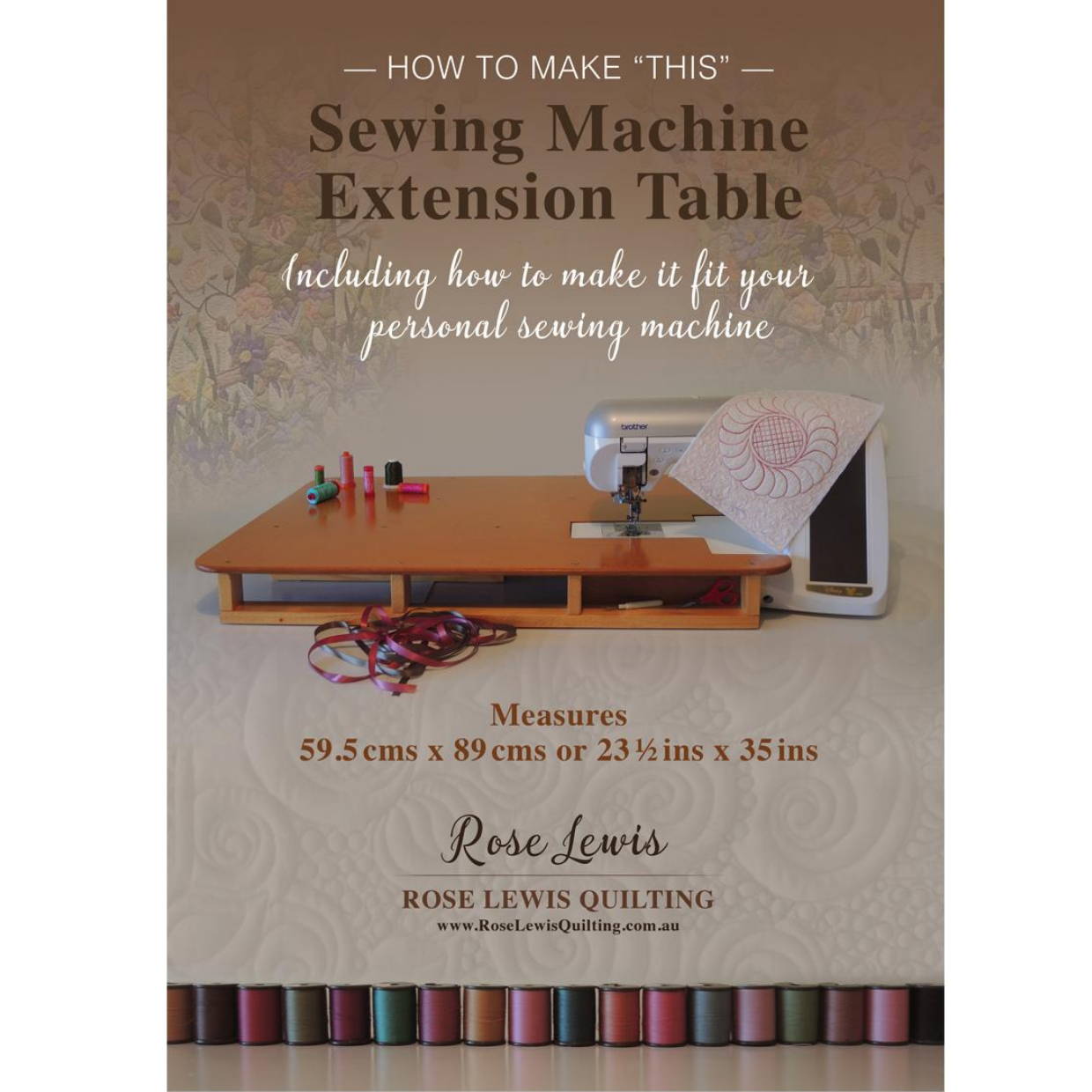 ---
Looking for more information?
That's perfectly okay...... Please do read on!
Have you ever wished to have an extension table for your sewing machine
that is large and doesn't cost a fortune..... Of course you have!
Within the covers of this pdf e-book you'll find the instructions, with lots of images included and the pattern sheets for making this very large, but quite light, wooden sewing machine extension table, that my husband designed and made for me many years ago. It's also very easy to slide on and off from around your machine, for changing of bobbins, etc.


This table measures a huge 59.5 X 89 cms or 23 ½ X 35 ins, which is absolutely brilliant for sewing all those huge quilts.
This is the exact same table that I have used with many of my quilts, including those that measure approx 3 mts square.


As all machines are very different in shape and size, the instructions explain to you, how you can easily make this fit your own personal sewing machine, including the height and how to get it to fit smoothly around the bed of "your particular" sewing machine.


It's simple and easy to make and doesn't cost much mainly just the timber & screws, which are all listed within the book.


Once purchased your e-book will come into your e-mail from "Send Owl Downloads" almost instantly. (check your junk folder if you don't see it)


Click on the long blue link within that e-mail

, and the e-book will download into your computer.


Do...

Remember to save it.
---
Do you know that when you get into the feeling of procrastination,
that's when you normally miss out on the good things in life...
Don't regret not having the most amazing sewing machine extension table!
---
You can also check out this video here,
for even more insight into
"Your new sewing machine extension table"
---
PS.... This is truly an amazing sewing machine extension table, that can easily be made to fit "your personal sewing machine". The trick to being able to do that, is written within the instructions within this pdf instant downloadable e-book. You can be using this within a few days time.

It's simple & easy to make. I've personally made one of my tables totally myself.
Have a beautiful, creative & inspiring day
Rose
---