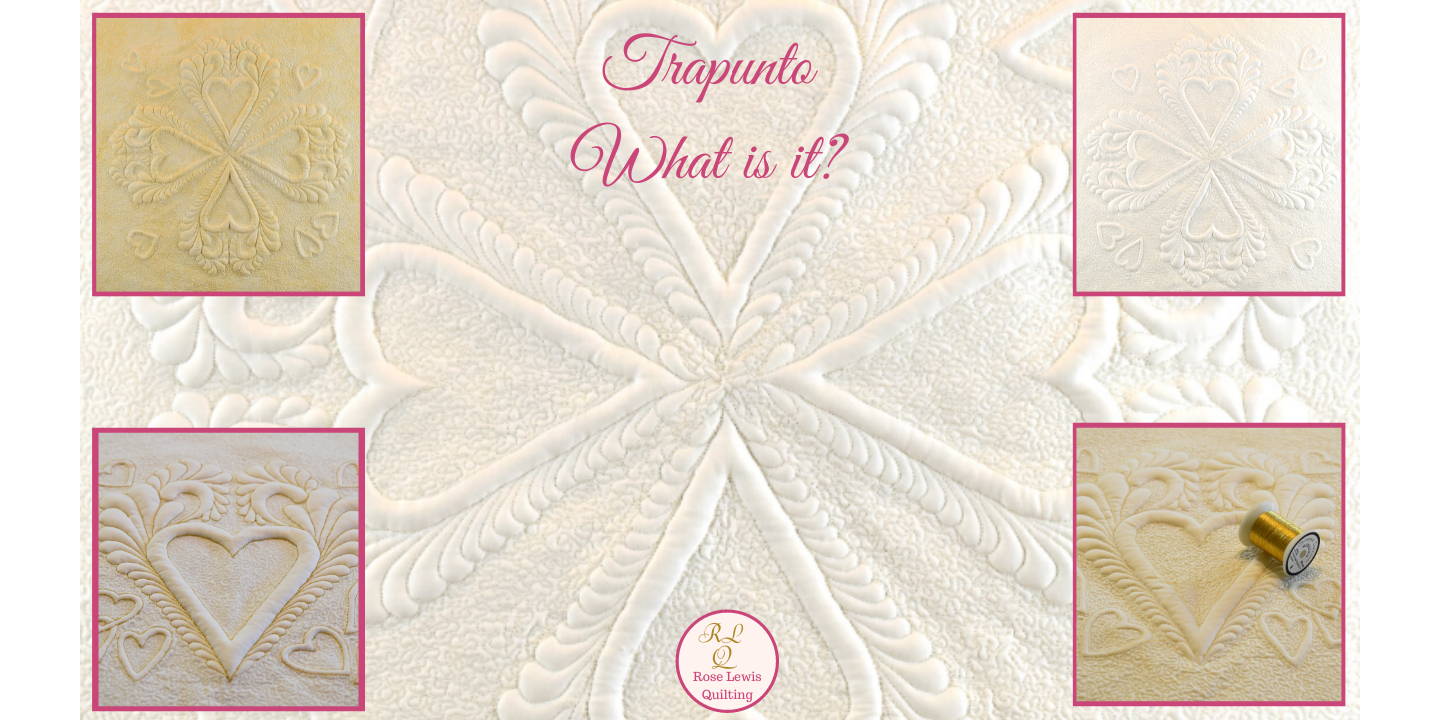 What is it, where and how do you use it?
Have you ever finished a beautiful quilt, where you've put in many hours, not to mention the amount of
"love" that you've given to your quilt, only to find that it seems a little flat, a little drab & boring or a little
ho-hum. Never mind, we've all been there. What if you could bring life, energy & dimensions to all your
future quilts? Not only that, what if it was simpler than you could have ever imagined?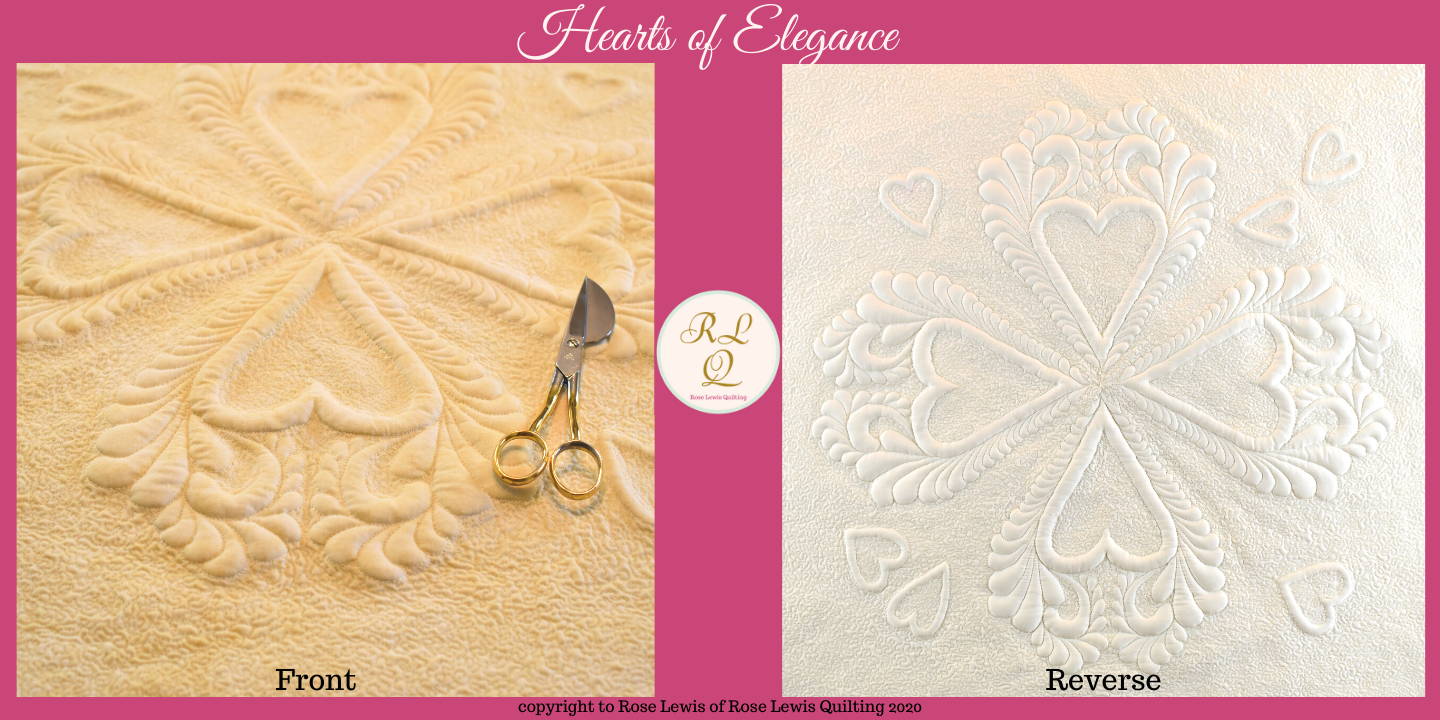 Trapunto will bring life, energy & dimensions to your quilts.
Would you "love" to be able to easily bring life & dimension to your
quilting projects just like these pieces here?
I'm feeling positive that you would, but your thinking that you couldn't possibly create this or something like it.
Believe me, it's much easier than what I presume you're thinking. Check out the next image & I'll explain it more.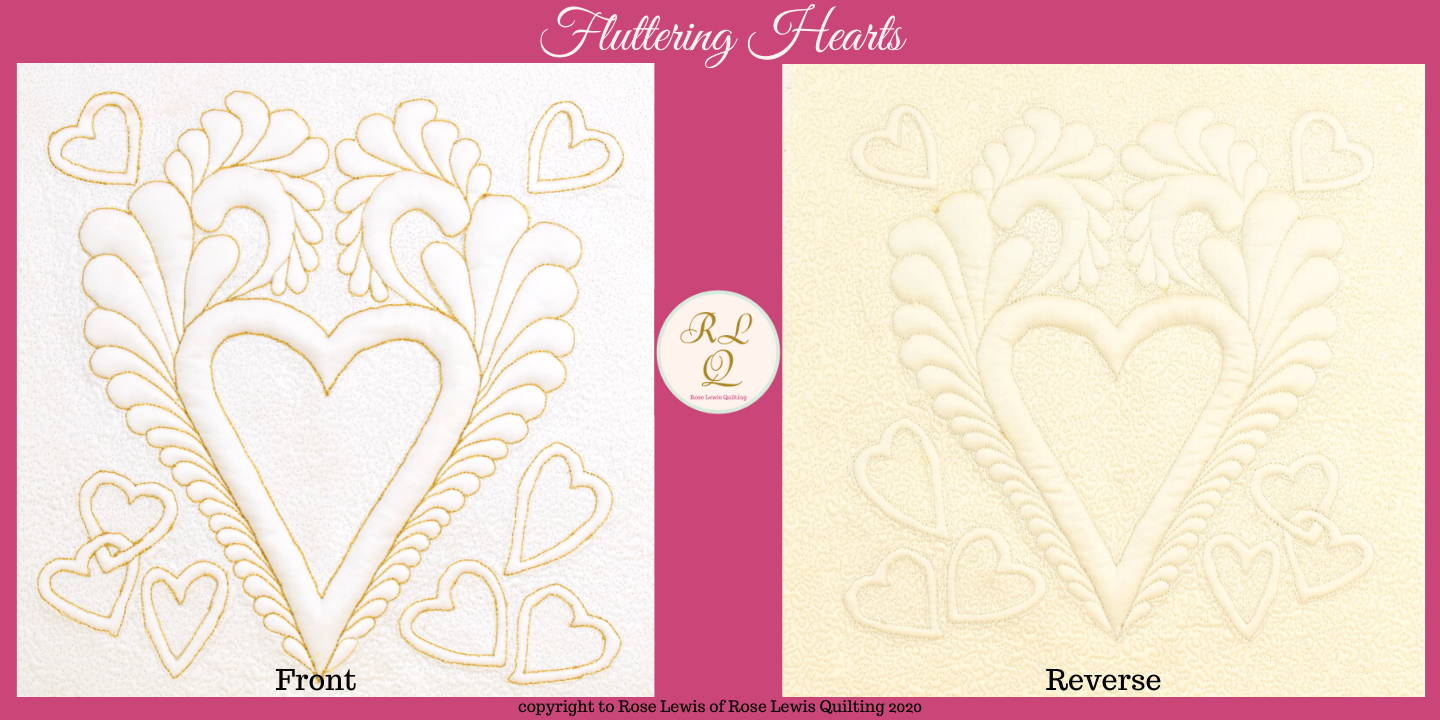 I've been doing trapunto for approx
35 years, & the way that I do trapunto is so easy.
Basically trapunto is wadding or stuffing
added in behind the top layer of fabric, which then makes it "puff out".
Of course there's things you need to know & still learn!
If you learn the right way from the very start, then you'll be creating magnificent
pieces within a few short hours!
I've been teaching in-person classes & demonstrating for many years now, at quilting guilds, quilt shows, quilting groups,
etc & everyone is always surprised at just how easy it is to do. Because it's a new technique, most people in the classes are
feeling a little apprehensive, but within a very short time, the oohs & arhs and big smiles start happening and everyone
becomes very excited, as they start to see their design starting to come to life. They always seem to be amazed at the
simplicity of this technique, and the magnificent results they've just achieved. I'm positive you'll feel this as well!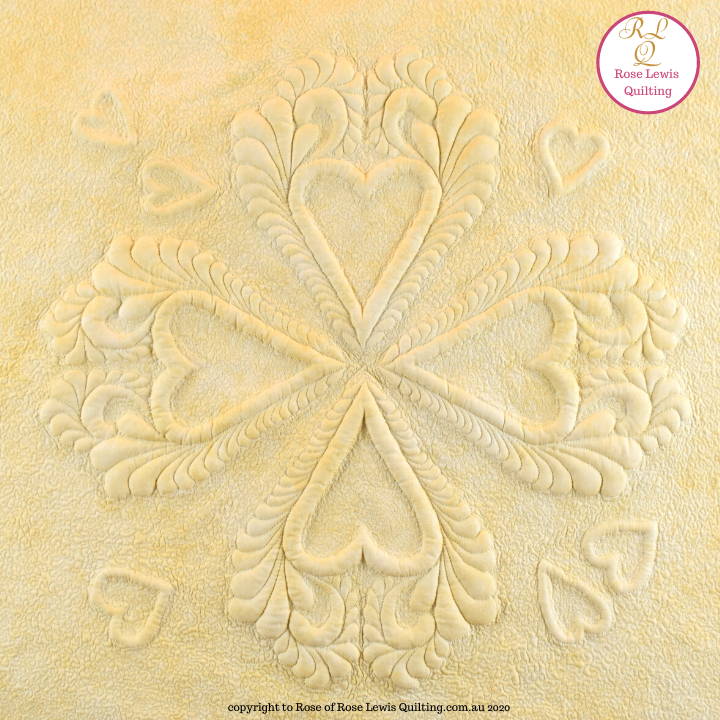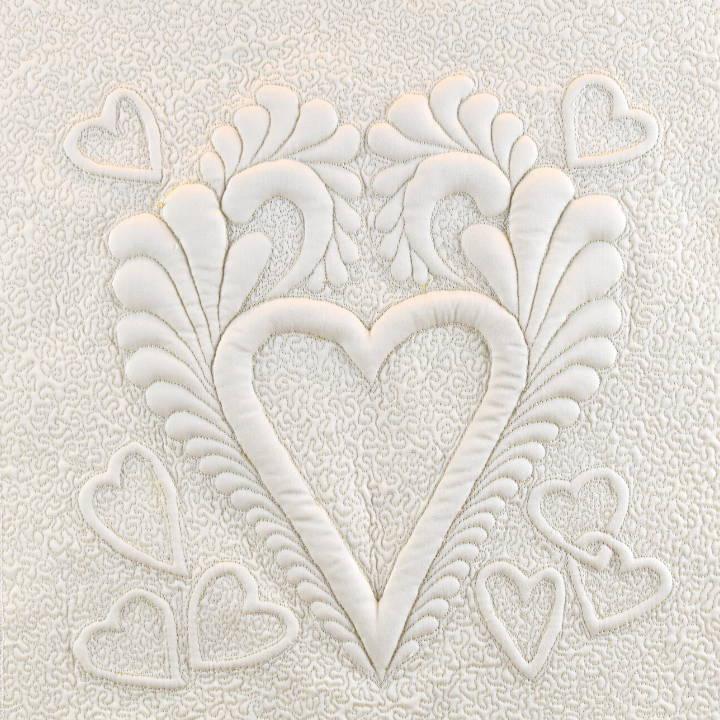 What can I expect to find within this course?
Within this "Fluttering Hearts of Elegance" trapunto course, you'll find many very easy & simple step by step videos where I clearly take you through every step to being able to create the two above pieces.
This course comes with the patterns for both the pieces you see here, the smaller gold single heart, "Fluttering hearts", is the one we initially learn the trapunto technique on, then the next piece is "Hearts of Elegance" , where it's basically the same pattern but with 4 main hearts. This allows you to create a magnificent piece, but not being overwhelmed with a new design. Easy Learning. You'll also receive a small booklet, followed by many very clear & explanatory videos, 24 in fact, but these are all broken down into easy sections for easy learning, that show me creating & sewing these exact pieces that are within these images, from start to finish. When I teach any of my classes whether on-line like here, or in-person, I like to teach as if I'm sitting right beside you in your personal sewing room. The best way to learn anything, is to learn from someone that, not only has great expertise & experience in what they are teaching, but someone that is very good at being able to teach others in a very simple way, so as not to overwhelm their students. If you have any issues at any time during this trapunto course, you're also able to contact me. I call all this "easy learning"! Be creative, Be inspired!
Trapunto Course Instructor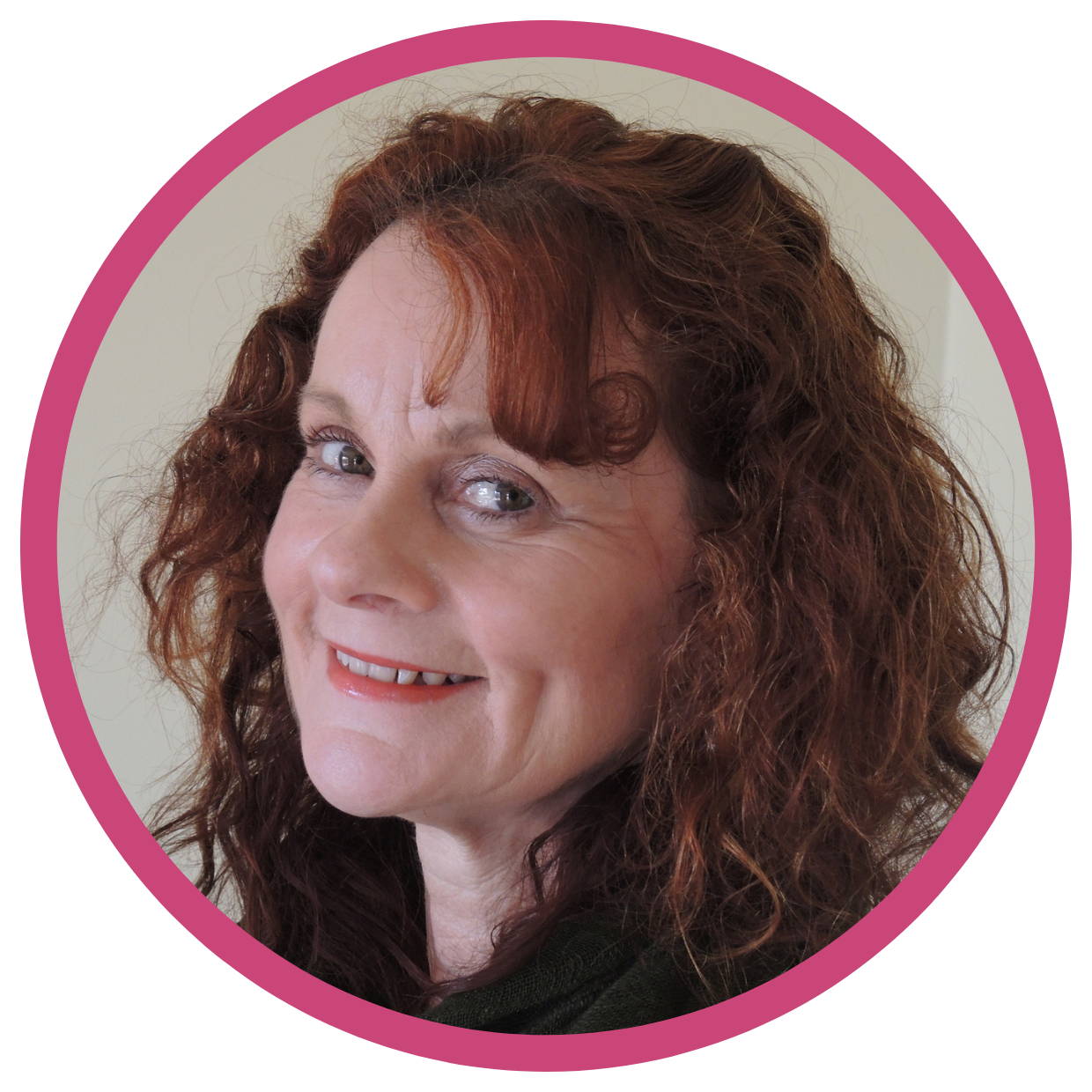 rose@roselewisquilting.com.au
I'm feeling rather nervous nervous about learning Trapunto, as it looks rather complicated.
I understand your concerns, but believe me, you'll be surprised once you start it. If you can sew on your sewing machine, if you can cut around shapes & are willing to try a new technique, then you'll be perfectly fine.
Do I need lots of special tools etc, to be able to create Trapunto quilting?
A brilliant question! Only a couple of small items. Some inexpensive specialised thread, a particular wadding/batting, be able to drop the feed dogs on your sewing machine and to have a quilting foot. The particular scissors I use make it really easy, but you can use what you have if you choose to & to make it even easier, I have these items on my website. Easy as life is meant to be!
What if I'm not sure about making something, and would like to ask some questions.
Fantastic question... You can always contact me via e-mail, and I'll always be happy to answer & help you out... I Love helping people. We may be in a different time zone, as I'm in Australia, but I always answer my emails.
Do I get both the patterns here included within the price of this course?
Most Certainly you do... The single gold heart is called "Fluttering Hearts", & this is the first one that we work on & learn the trapunto technique, and the larger lemon piece with the 4 hearts is called "Hearts of Elegance", & is the second piece. But by then you've already learnt the technique, so this piece is an extension to the first piece. To make it easy I kept to the same design & just multiplied the hearts. Easy learning!
Where can I see what all the video lessons are?
Excellent question. Just click this link here to be taken to my on-line course description page, and scroll down to almost the bottom of the page.
Click on the "+" to open the drop-down to easily see each section of course.
Hopefully this has answered many of your questions about Trapunto, but like anything in life, the best way to learn is by taking action.

Let go of your fear & apprehension by taking the small step by joining this online course, that's your's to work at your own personal pace,
to gain huge rewards by growing within your personal creative journey.... Be Inspired, Be Creative...
If you'd like to know more just e-mail me at rose@roselewisquilting.com.au